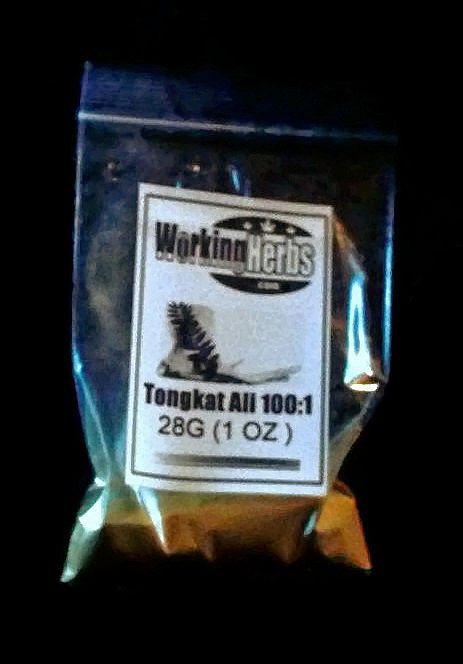 Customers also viewed these products
---
Description:
1 oz. (28 grams) Tongkat Ali 200:1 Root Extract
Scientific Name(s): Eurycoma longifolia Jack. Family: Simaroubaceae
Tongkat Ali is also know by the names, Pasak bumi,Cay Ba Binh and Malaysian ginseng
This root powder is of the highest quality certified fresh and organic and we can share the legal seal upon request.
WHY 200:1 Extract?
We have sixteen plus years of first hand experience taking a lot of the vitamins, Amino acids and herbs that we sell and 200:1 is enough for optimum natural absorption in the body. It is important to remember to cycle herbs like Tongkat Ali and taking Tongkat at to high a concentration can lead to a loss of a lot of it's potency as your body will process that herb at a rate that the majority of the concentrate is excreted before becoming bio-available for it's intended effect.
NOTE: Everyone will have a different response to herbs and supplements but this is based on our own personal experience with a lot of our products and having been health enthusiasts and natural bodybuilders for close to 30 years.
100% Fresh
100% Pure Organic, 100% Potent!
Pharmaceutically tested and certified
Benefits of Tongkat Ali:
The root of Tongkat Ali seem to affect how the body produces the hormone testosterone. Research in animals and humans suggests it might increase testosterone in the body significantly. Although this is a natural supplement in some circles Tongkat Ali is referred to as the " poor mans Clomid "
in Indonesia Eurycoma longifolia is also used for fever, malaria, ulcers, high blood pressure, tuberculosis, bone pain, cough, diarrhea, headaches, syphilis, and cancer. In Vietnam Tongkat Ali is called clay Ba Binh which means the plant that cures everything.
Preparation:
Mixing into a smoothie or other beverage or fill empty capsules also available here on our website.
Dosage
For men, suggested dose for daily maintenance is 400-1000MG (1gram ), 14 days on followed by 5 days off.

This information has not been evaluated by the Food and Drug Administration. This information is not intended to diagnose, treat, cure, or prevent any disease.