Chia Seeds Black - Organic - Non-GMO - Vegan 4OZ bag
Protein foods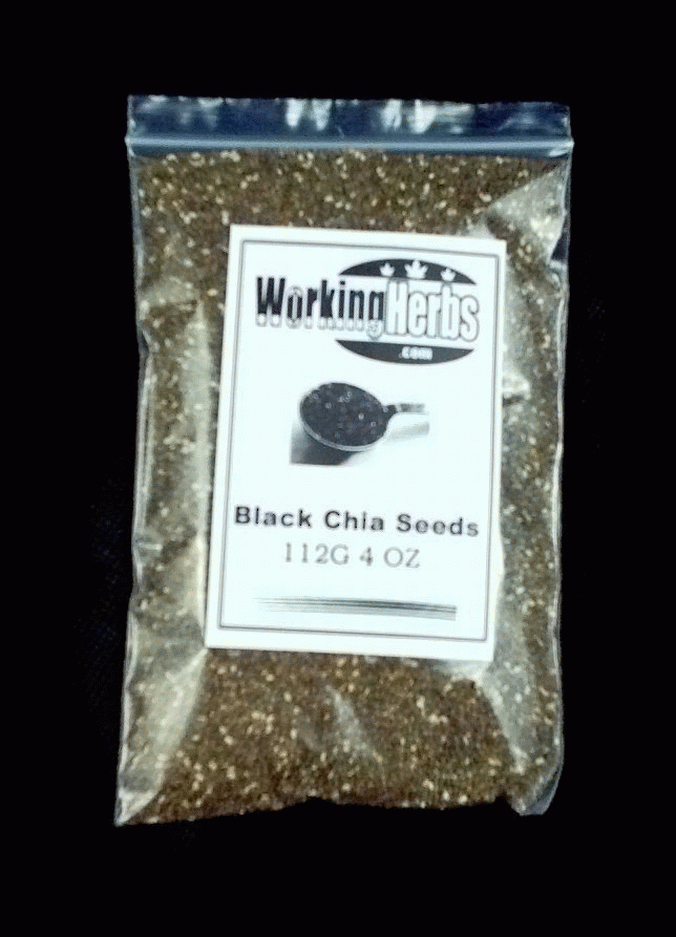 Customers also viewed these products
---
Description:
SOME OF THE HIGHEST QUALITY AVAILABLE ANYWHERE !
4OZ 100% PURE PREMIUM BLACK CHIA SEED, ALL NATURAL, ORGANIC.
Condition:
HARVESTED this year!!!


Chia, also known as Salvia Hispanica, is sometimes referred to as the forgotten crop. Domesticated in 2.600 BC, chia is a flowering plant native to southern Mexico and Central America. Chia was cultivated by the Mayans and Aztecs and one of the key foods of their diet. In fact Chia seeds were so valued they were even used as trade currency. Aztec warriors and runners are said to have sustained themselves on just a tablespoon of chia seeds a day, providing them with abundant energy and endurance for long jounies and epic battles.
Because of the plant's ability to increase stamina and energy over long periods, chia seeds were considered quite magical. Due to its superior nutritional value, chia became a holy seed among these ancient civilizations, used in religious ceremonies and offered up to their gods.

Nutritional facts for just 1OZ of Chia Seeds

| Nutrient | Quantity |
| --- | --- |
| Total Calories | 137 |
| Calories from carbohydrate | 50 |
| Calories from fat | 72.1 |
| Calories from protein | 15.2 |
| Total carbohydrates | 12.3 g |
| PROTEIN | 4.4 |
| DIETARY FIBER | 10.6 |
| TOTAL FAT | 8.8G |
| TOTAL OMEGA 3 FATTY ACIDS | 4915 mg |
| TOTAL OMEGA 6 FATTY ACIDS | 1620 mg |
| CALCIUM | 177 mg |
| POSPHORUS | 265 mg |
| POTASSIUM | 44.8 mg |
| ZINC | 1.0 mg |
Shelf life-Expiration Date: 36 Months (at room temp), 60 Months (when frozen)
HIGH FIBER to fight cravings on a weight loss diet
HIGH OMEGA 3
lower risk of coronary heart disease and improvement in cholesterol
HIGH PROTEIN Also helps fight off appetite cravings
HIGH ANTIOXIDANTS prohibit (and in some cases even prevent), the oxidation of other molecules in the body.


FAST SHIPPING in 48HRS or less
This information has not been evaluated by the Food and Drug Administration. This information is not intended to diagnose, treat, cure, or prevent any disease.