(Dr Sebi inspired)100% Natural Sea Moss/Irish Moss And Bladderwrack-No Metal 8 oz pouch
Herbs for health
Price: $23.95
Only (6) left
Weight: 8 oz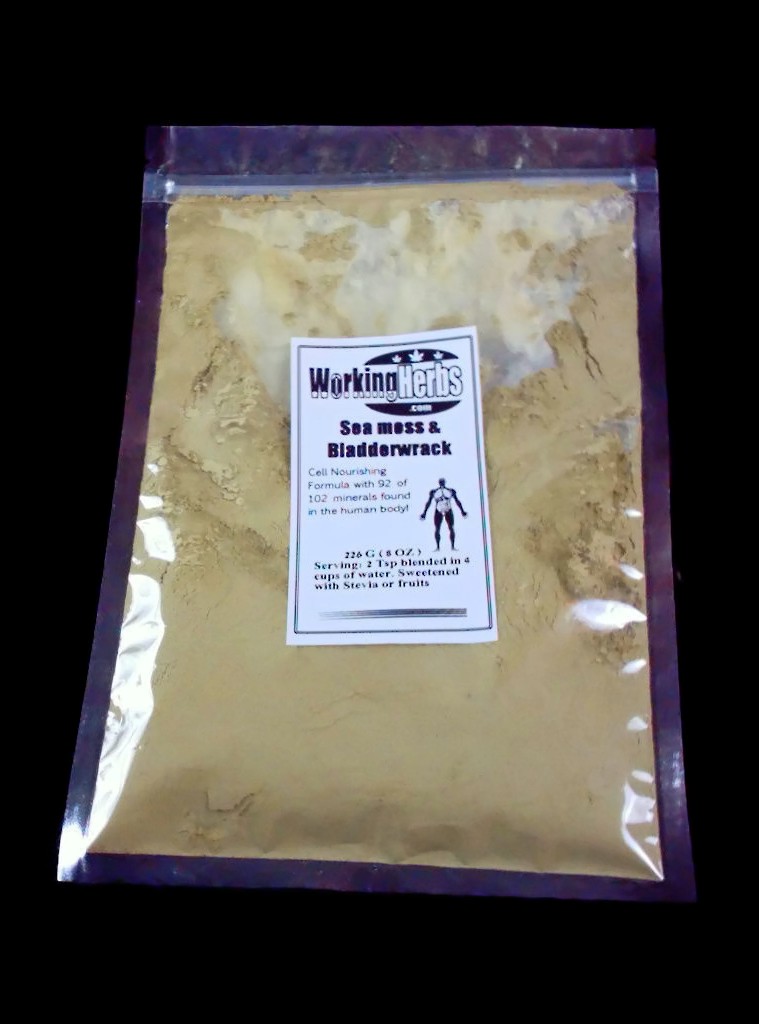 Customers also viewed these products
---
Description:
Have you ever heard of the famed Herbalist to the stars known as Dr Sebi? He is probably most famous for offering his powerful detoxifying and cell building regiments to celebrities like Magic Johnson, Lisa Left eye Lopez John Travolta and the list goes on and on. Dr Sebi was a herbalist to the stars but also a down to earth huge advocate of the concept of the bodies inherent abilities to rebuild itself given the proper nutrition and using the natural herbs shared to us all from mother earth.
The late Dr. Sebi is no longer with us now but we are offering a new special formula that includes both Sea Moss and Bladderwrack that he spoke of often. This is the same combination of rare bio-nutrients he used in

some of the most powerful detoxification treatments ever ran on the planet

in my opinion. Now you can enjoy this same powerful combination Recommended by Dr Sebi at a dramatic discount provided by workingherbs a trusted brand with Hundreds of happy customers all over the USA.
Irish moss is also called Sea Moss, Chondrus crispus or carrageen moss is a species of red algae which grows along the rocky parts of the Atlantic Coast. Native to North America and Europe.
This sea moss, is a type of seaweed originating in a region of Canada. During the potato famine in Ireland, many had turned to a red seaweed that washed up ashore. The people were desperate so they ate what ever they could. Little did they know that this amazing nutrient sea moss alone was more than enough to sustain them. Sea moss has over 92 minerals in a highly bio-available form to enhance the bodies ability to rebuild cells and bladderwrack to pull out dangerous toxins that may have accumulated in your body leaking into your bloodstream.
This auction is for a full 1/2 LB of Sea Moss Bladderwrack formula that can be used with water and a natural sweetener ( we use stevia or raw fruits ) and Walnuts to make a powerful smoothie to drink throughout the day as a supplement or as an aid during an extended fasting detoxification of the body as Dr Sebi instructed tens of thousands of health enthusiast around the world.
Preperation:
In a blender Mix 2 TSP of this formula with 4 cups of water ( Natural Spring water is bes )t & fruits, Walnuts or Chia Seeds and we recommend adding our natural stevia as a sweetener rather than Agave Necture ( because recent studies surfacing now show Agave to raise sugar levels and not be as nutrient dense as once thought in the natural health community).
This cell building dense nutrient formula is worth adding to your regiment now. As always we source only the highest quality ingredients at a great price with Super Fast shipping ( just look at our feedback ).
This information has not been evaluated by the Food and Drug Administration. This information is not intended to diagnose, treat, cure, or prevent any disease