Creatine Monohydrate Ultra Micronized Powder 8OZ pouch
Creatine and Beta Alanine
Price:
$11.95
Out of stock
Weight: 7 & 31/33 oz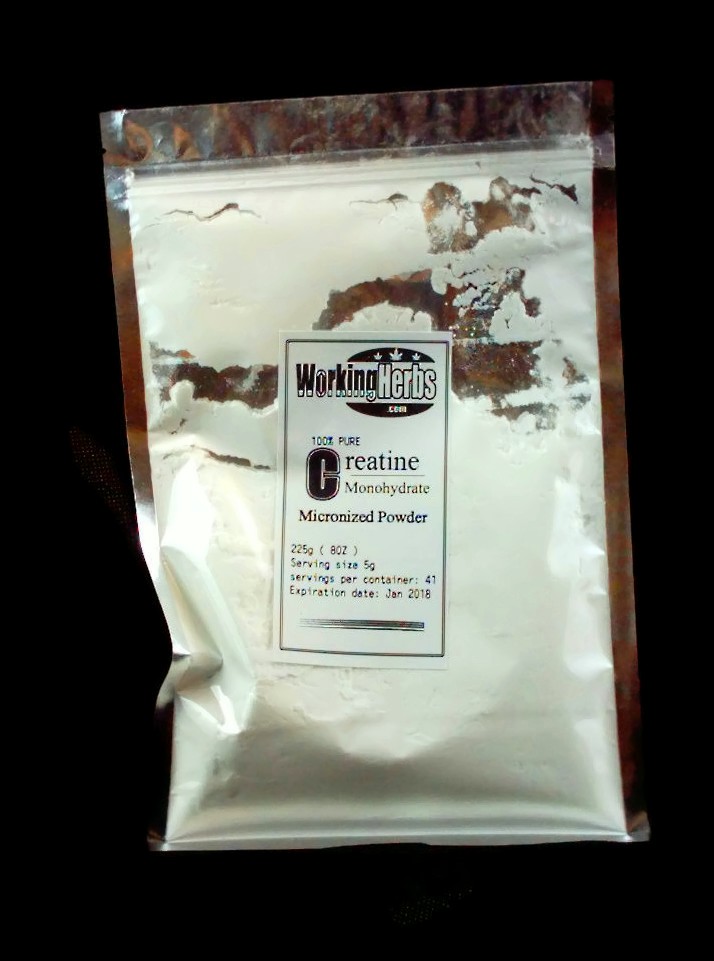 Customers also viewed these products
---
Description:
Creatine is probably one of the best known supplements in the bodybuilding and sports nutrition world. Our bodies hold 3.5 - 4 grams of Creatine per Kilogram of body weight however the reason so many bodybuilders, health enthusiasts and athletes turn to Creatine supplementation is because our bodies can potentially store 5 grams of Creatine per kilogram of bodyweight ( 25 - 40% plus ) more Creatine.
When supplementing Creatine so that there is more available in your cells for a workout this means that you can actually increase the intensity of your workouts and decrease the time it takes for your muscles to recover after intense physical activity. Creatine replenishes cellular ATP (adenosine triphosphate) levels in the muscle cell walls. More ATP can mean better contractions for heavier lifting.
Typical Preparation / Dosage
Mixed into a beverage of your choice. Our Creatine is micronized and easy to break down in water. Since most studies done on Creatine are based on a 5 gram dosage this is widely accepted as a common serving size (1 level teaspoon is equal to 5 grams ).
PERSONAL NOTE: We dissolve our Creatine into a juice with 1/4 tsp of Vitamin C and 1/8 tsp of baking soda. The Vitamin C and baking soda will fizz a bit and create Sodium Ascorbate and help break down both Vitamin C and Creatine. I am not personally recommending this for everyone because some people are on a sodium restricted diet ( so no baking soda for you ) This is just an old school way of breaking down some powders and getting them a bit more bio-available. Another approach that is old school is to mix your Creatine in 2OZ of hot water ( So it breaks down even better ) and add 10-12 OZ of your cold juice to that. Again these are just little personal tips we have used in our own Creatine supplementation shared for anyone who might be interested.
We do not practice Creatine loading and in our opinion it is best taken 45 minutes to 1 hour before a workout or added to your post workout regiment.
Precautions
Creatine is generally accepted as safe and most complaints are mild stomach discomfort.
This information has not been evaluated by the Food and Drug Administration. This information is not intended to diagnose, treat, cure, or prevent any disease.